America Needs A War on Waste–Not A War on Trade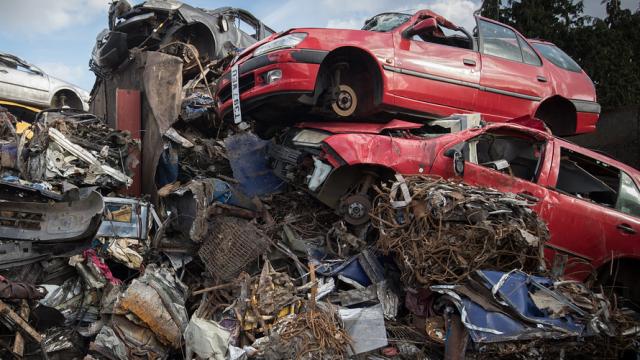 While President Trump battles the rest of the world over trade, he may be missing the point entirely. His ideas are based on old ideas of the linear economy – where other countries, like China, take raw materials, process them in factories to turn into salable goods, then ship them to us to consume. By contrast, a circular economy where products are made, used and recycled in the same national economy makes a lot more economic – not to mention ecological – sense.
In Trump's mind, his trade war is combatting a long-time status quo whereby money flows out of the U.S. economy and lines the pockets of executives and industrialists in manufacturing countries, leading to a trade deficit at home. Key to this model is the implied guarantee that Americans will use the product, grow tired of it, then throw it away in order to buy a new one. The goods end up in the dump and more U.S. money gets funneled into foreign countries – both through consumers buying more predestined junk, but also because we pay these same countries to take the garbage away. This has created big business for China and other nations like Nigeria, India and Pakistan.
Now, as landfills in the U.S. grow ever larger, filled to the brim with cheap merchandise that China produces and exports here, perhaps it's time for Americans to shift our focus from warring over trade to initiating a more sustainable, circular economy of recycling. In this model, the finished products we consume from around the world would be recycled locally and reused. The selling point: It would cost us a fraction of what we pay for getting them manufacturing elsewhere.
Rather than perpetuate the expensive business of buying foreign goods and paying others to get rid of them, our money would stay in – and grow – the U.S. economy. Not only would this produce more domestic jobs, it would also bring new sectors of industry to the U.S., potentially replacing the lost jobs in steel and mining of non-renewable fuels.
Researchers in America have already started looking into the vast potential of this quite simple idea, by asking consumers themselves if they would prefer to buy remanufactured goods. The answer appears to be a resounding YES. With consumer demand already there, all that's missing is for corporations and companies to start producing more goods remanufactured for the U.S. market. Ultimately, this is where the federal government could step in and play a fundamental role helping restructure the nation's industry to focus more on recycling and producing remanufactured goods.
 
Companies committing to remanufacturing
The fast changing nature of industry has already led companies to shift their focus onto remanufacturing. For example, the construction and mining equipment company, Caterpillar, faced a crisis after mining operations closed around the country. So it chose to look toward the future and now remanufactures 85 million tons of equipment each year.
Similarly, General Motors responded to disruption in the automobile industry by cutting out waste. GM has 142 manufacturing facilities that don't produce any trash thanks to new practices in recycling and reusing. The company now converts as much of its waste into energy it can use. GM has seen the value in garbage and participates along with a thousand partner companies in a new online exchange, where recycled waste can be bought and sold as raw material. This has led to incredible revenue and savings of reportedly $1 billion annually.
In the nonprofit sector as well, a lot of work has gone into researching practical ways to incorporate recycled and remanufactured products into their enterprises. For over two decades, the Center for Remanufacturing and Resource Recovery at Rochester Institute of Technology has partnered with nationwide organizations like the U.S Marines Corps to put more circular economy principles into action. For instance, it helped the Marines remanufacture defective driveshafts for use in the construction of light armored vehicles, which led to a 78 percent savings for the military compared to buying them new. The center also assisted Staples in cutting out 90 percent of non-recycled material in its office furniture, enabling the company to reduce the cost to the consumer by 40 percent.
 
The advantages of the circular economy
As these examples show, even a critic of sustainability would be hard-pressed to dismiss the potential benefits of a circular economy. Researchers believe going this route could lead to over $1 trillion a year in both savings and revenue, based on a report by the Ellen MacArthur Foundation in the UK that predicted the EU could replace all its imports with locally remanufactured or recycled alternatives and generate savings of $300 to $600 billion annually.
How's that for fighting the trade deficit without creating a global trade war?
As it stands, remanufacturing currently accounts for only 2 percent of all manufacturing in the U.S. However, it has already generated 180,000 jobs in sectors from consumer products to aerospace. Given how much merchandise the U.S. imports from around the world, if we were to shift our focus to remanufacturing, we'd see hundreds of thousands of new jobs and a healthier, more sustainable economy.
 
How to start the process of recycling
At the moment, most of the things we produce cannot be remanufactured because they're not being made from re-manufactureable materials. Plastics, in particular, are the culprit. Globally only about 9 percent of the plastics created each year are reused or recycled. Instead, 79 percent end up in landfills waiting for future generations to tackle, while the other 12 percent are burned and add to filthy atmospheric emissions – a shocking trend given the speed of climate change. This needs to stop; America should be creating regulations to ensure that all products are created with future remanufacturing in mind.
A wiser, more visionary president would replace his trade war with tax incentives to encourage businesses to opt into the circular economy, coupled with more taxes placed on products that don't use a certain percentage of reused materials. The money from this tax could then fund more research into remanufacturing as well as community efforts to recycle and reuse more. Rather than depress the world economy with a misguided temper tantrum, a forward-looking policy based on circular economic principles could usher in a more prosperous future.
 
Re-made in America
These ideas are not far-fetched. For the last 20 years, China has been systematically expanding its remanufacturing processes. The EU is now following suit, with a formal action plan for recycling that it revised in 2015.
As other countries begin to set limits to their imports and focus more on creating circular economies in order to stay ahead, the U.S. must keep apace – and go further – in its remanufacturing efforts. In the dawn of the circular economy, the U.S. would still probably import many products like steel from abroad, but it would end up reusing those and other goods in American factories, employing American workers to manufacture new goods from old waste. "Made In America" used to be a source of pride in this country. Perhaps the term now should be "Remade in America."