Evangelical Christians May Be Deciding Factor in Alabama Senate Election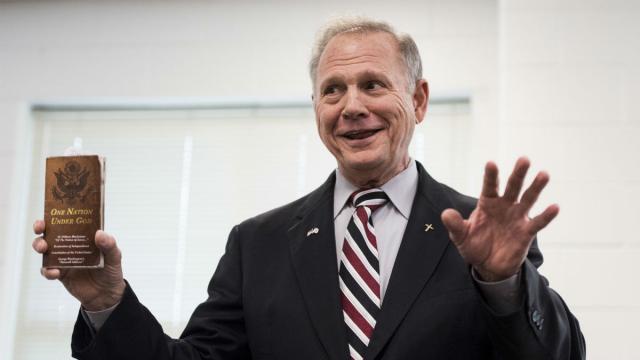 As Alabamans go to the polls Tuesday for a special election to replace former U.S. Senator Jeff Sessions, the contest could be decided by a diverse group of residents who identify as evangelical Christians – a body that makes up 49 percent of the total population.
Roy Moore's well publicized history of sexual misconduct when he was an assistant district attorney in the 1970s have produced an election that even the renowned elections prognosticator "Sabato's Crystal Ball" deems a "toss up".. Under normal circumstances the election would have been a sure win for the Republican candidate in a state where Donald Trump won 62 percent of the vote last fall.
But in the days following the wave of accusations against Moore, Democratic Senate candidate Doug Jones surged ahead in the polls. Since Thanksgiving, Moore remains ahead of Jones in most polls with a slim margin of error. The candidates couldn't be more different on the issues: Jones's platform includes a staunch support of Obamacare, an increase in the minimum wage, equal pay for women and abortion rights.
His pro-choice stance, especially, could sway many Alabama voters toward Moore. A Pew Research Center poll found 58 percent public support for making abortion in all or most cases illegal in the state.
Moore has accused Jones of supporting full-term abortion and has made the issue a driver of his campaign in recent weeks, using the hashtag #AbortionJones in social media.
The accusations against Moore that he dated or attempted to date underage girls in Alabama may lead many hardcore conservatives to stay home on election day, vote for write-in candidate Lee Busby, or vote for Jones. Moore's combative style of politics, twice removal from the bench as judge, and far-right positions have already alienated many Christian evangelicals.
Organizations such as Christian Democrats of America, which claims around 135,000 members, with some 2,500 in Alabama alone, have sought to change the paradigm of evangelical Christians equaling support for Roy Moore or other candidates with similar positions.
"Democrats have to realize that if we get candidates who can win and will be with us on tax reform, on things like Obamacare and the minimum wage, but might be more conservative on abortion and other issues, we have to accept those candidates -- or continue to allow the alt-right to gain more ground," Christina Forrester, founder and director of CDA told Occupy.com.
CDA recently started a petition on its website protesting Roy Moore, which states, "Child molestation is not a Christian/family value."
In this Deep South state, many African-Americans identify themselves as evangelical Christians. Since the 2016 election, however, there has been a divide among members of this group over support for Donald Trump. White evangelicals overwhelmingly supported his candidacy while the opposite was true for black members.
African-American congregations in Alabama historically have been at the epicenter of civil rights, particularly the Civil Rights Movement of the 1960s led by Martin Luther King.
For Tuesday's Senate election, the Alabama NAACP has urged pastors to mobilize their congregations to action. While the NAACP doesn't endorse a specific candidate, it takes a clear stance on political matters it finds concerning.
"Churches are one of the entities we depend on to get the word out to the community," said Alabama NAACP President Bernard Simelton. One of the group's primary concerns is the repeal of the Affordable Care Act.
"Many people depend on the Affordable Care Act (in Alabama), and if the wrong person is in there when there is a vote to take away the ACA, many people would lose health insurance," he said.
Last month, NAACP member and outspoken activist leader Reverend William Barber II led a news conference of religious figures in Alabama, where he described Moore's position as an "extreme Republican form of religionism contrary to the real values of Christian evangelicalism." Barber announced that he and other ministers had signed a letter denouncing Moore's stance on issues such as Medicaid expansion, religious liberty and his response to those who accuse him of sexual abuse.
Some evangelicals see the accusations against Moore as a lesser evil than electing a Democrat to the Senate – something Alabama hasn't done since 1992. Governor Kay Ivey says she believes the accusers, but will still vote for Moore.
"We need to have a Republican in the United States Senate to vote on things like the Supreme Court justice," Ivey said.
A recent CBS News poll showed a majority of Alabama Republican voters simply don't believe Moore's accusers.
For Jones to win on Dec. 12, he needs to convince voters he has embraced the economic and civil rights stances of Democrats while at the same time distancing himself from the party's positions on abortion, gun control and national leadership. In other words, for him to possibly be the first in a new wave of Democrats winning national office, he must resort to the old ways of making local connections – with national Democratic considerations taking a back seat.