How YouTube Rightwing Extremists Became the Internet Mainstream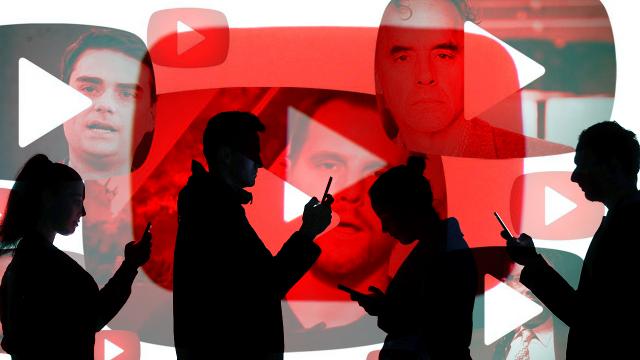 Exploring so called "alternative media" on YouTube will make you end up watching white supremacists. Both Google's greed and the carelessness of mainstream conservatives are to blame.
In January 2018, I interviewed a pro-Kremlin YouTube personality, Inessa Sinchougova, who captured the attention of 100,000 Americans with her edited translations of Putin's speeches and interviews. Two years after launching her channel, Sinchougova reportedly has more views on YouTube than her favorite singer, Rihanna.
But Rihanna is not the only one underperforming on the mega Internet channel that, since 2006, has belonged to Google. After spending some time on the platform, it becomes clear to even the casual observer that politically YouTube now belongs to the far-right – just like Twitter largely, with one notable presidential exception, belongs to the left.
According to The Guardian, during the 2016 presidential election, YouTube was dominated by anti-Hillary content because of an algorithm, not anyone's conscious decision. But to say that popularity of the Parkland shooting conspiracy clips or pseudo-scientific debates on the differences between races reflects only on our choices would be a mistake, too.
What we are in fact dealing with here is what the Oxford Internet Institute calls "computational propaganda": the work of an artificial intelligence seeking profit and, on the way there, cracking the code to our worst desires and fears.
One of the company's early engineers, Guillaume Chaslot, was sufficiently terrified with what he had helped to create that he quit his job at Google and started his own company, Algo Transparency, with a mission to demonstrate how the YouTube algorithm works.
In March, The New York Times published an op-ed by sociologist Zeynep Tufekci, who described her own experiments with YouTube and the unexpected consequences of "selling our attention to companies."
As most of us know, YouTube videos are played in chains, as playlists – in fact, a new video starts playing automatically a few seconds after the previous one ends. Tufekci observed that the algorithm figured out that the best way to keep us watching is to keep feeding us with more and more radical and incendiary content.
"Given its billion or so users, YouTube may be one of the most powerful radicalizing instruments of the 21st century," Tufekci said.
Google is aware of the problem for some time now and, just like other tech giants, it's struggling to solve the problem without giving up money. YouTube has a Partner Program within which content creators get a proportion of advertising revenue. You have to have 4,000 "watch hours" and at least 1,000 subscribers – but the content you produce, until recently, didn't matter.
In January, this program was modified and many racist, misogynist and harassing videos were flagged and not paid for, even if they had many views. Around the same time, the pro-Putin commentator Inessa Sinchougova and many other controversial YouTubers were forced to open accounts on Patreon, a membership platform that allows fans to support content creators with monthly fees, in order to continue to support themselves as full-time vloggers.
Then, in September, the Data & Society Research Institute released a study shedding more light on the YouTube radicalization phenomenon. Researcher Rebecca Lewis identified a so-called "Alternative Influence Network... an assortment of scholars, media pundits, and internet celebrities who use YouTube to promote a range of political positions, from mainstream versions of libertarianism and conservatism, all the way to overt white nationalism."
While their views differ, these "influencers" all share a fundamental contempt for progressive politics and contemporary social justice movements. "For this reason," Lewis wrote, "I consider their collective position 'reactionary,' as it is defined by its opposition to visions of social progress."
The study showed that YouTube right-wingers adopted techniques and tactics developed by YouTube brand influencers, such as personal growth confession ("coming out" as conservatives) or cross-promotion (collaborations across ideological lines).
The latter trick seems to be particularly problematic. While mainstream members of the network, like conservative political commentator Ben Shapiro, or the former Young Turks commentator David Rubin, "typically don't subscribe to alt-right or white nationalist ideals, they do host those who do under very friendly terms," Lewis reported.
One reason YouTubers' extreme popularity is because they appear available to their audience; their authenticity, the same feature that brought us Trump's presidency, is perceived as credible. Moreover, on YouTube, followers are invited to participate in the process.
As BuzzFeed reported, one of the popular features used during YouTube debates, "super chat," where users pay to have their comments highlighted on the screen during the stream, is full of hate speech.
The semblance of friendliness plays a crucial role in YouTube alternative media. the reputation of traditional media is replaced with social ties and trust. As independent reporter Tim Pool argued, media outlets' institutional reputation can actually be seen as a cover for bad journalism.
In her report, Lewis referred to another scholar, Daniel Kreiss, who analyzed readers of Fox News and Breitbart News and concluded that they think of the outlets as their family – a place where they, "outcasts" and "underdogs," can feel at home.
The concept of underdog is particularly popular among political influencers on YouTube: the shared sense of being under attack, targeted by the mainstream media and by YouTube itself.
On Sept. 24, after months of silence, Sinchougova posted another video on her channel. In the new video she referred to the piece I wrote about her, calling the article "bullying and harassment." She also shared a letter she recently received from YouTube.
The platform informed her that during a review, the team of specialists looked over the videos she had been uploading and found that they were "not in line" with the YouTube Partner Program policy.
As of the date of the letter, Sinchougova's channel is not eligible for monetization. But many others are doing just fine.