India Says #MeToo and Brings Down Powerful Men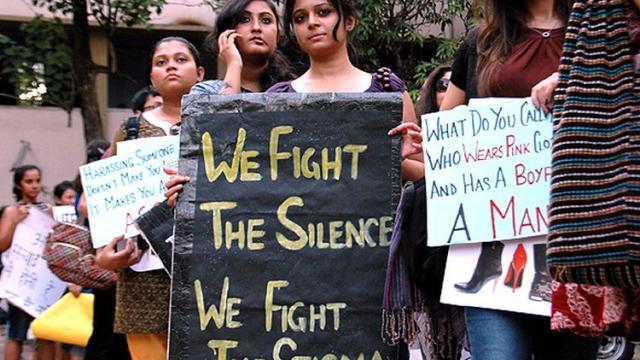 It may have taken a full year for the #MeToo movement to reach India, but the storm has hit – and loudly. On Oct. 6, 2018, Twitter in India was overtaken by tweets from women who refused to stay silenced any longer. Men in positions of power were named and swift repercussions followed. Many lost jobs and were the targets of internal inquires by their organizations.
It was not as if the #MeToo movement, in 2017, didn't have an impact in India already. Women spoke out and there were tweets referring to abuse that many had faced in the professional and personal sphere. But the character of the #MeToo movement here in 2018 was stronger. Unlike references in 2017 to unwanted touch and other sexually abusive behavior, the movement in 2018 aimed to name abusers and bring down perpetrators.
One Tweet by @ShephaliBhatt summed up the feeling: "I have waited for this moment to come for 19 years."
Like in the U.S., the media industry provided the impetus for #MeToo to take off in India. It started when an actor, Tanushree Dutta, filed a case against another well-known actor asserting that 10 years ago he had publicly groped her, and when she protested, he had used local goons to burn her car and publicly harass her.
Dutta may have taken years to file her complaint, but her brave act gave new momentum to the movement. She was reviled by many for the long time she took to publicly complain, but many of the #MeToo stories were about the abuse that women faced when they first joined their fields.
For example, a young television producer tweeted: "Took 19 yrs but here is my story #MeTooIndia #TimesUp #Metoo RT @Tesselmania: I was 20 years old quiz directing #koteeswaran when the mallu host #mukeshkumar called my room multiple times and then changed my room to beside his on the next sch. My then boss @derekobrienmp spoke to me for an hour & got me out on the next flight. 19 yrs on thank you Derek."
From October 8 to November 20, no fewer than 30,812 tweets hashtagged #MeTooIndia were posted. The tweets were startling in the details they provided and the names they fearlessly underlined. The authors weren't scared of being shut down or facing defamation cases. One television producer came out with her own story: "Brutalised in my own home: Producer Vinta Nanda accuses actor Alok Nath of rape #MeTooIndia."
Over the past year the stories have come thick and fast, from women of different ages and different professions. But two things stand out. First, women in journalism and media spoke out, and they were followed by students from different campuses in India. Today the movement has encompassed all sectors including the airlines industry, where women are routinely harassed by senior aviation officers like pilots. One tweet stated: "I was physically and mentally molested by captain (R.K.) of Indigo airlines 2years ago.4 more female employees of INDIGO have also undergone such. abuse by this http://man.As we fear for our jobs we do not wish to come forward ..."
But perhaps more than the names taken were the repercussions. Among the most surprising figures was Vikas Bahl, director of the Hindi movie "Queen," lauded for its feminist content. Best-selling author Chetan Bhagat and the former executive editor of The Times of India and ex-DNA editor-in-chief, Gautam Adhikari, among others were accused as well. Stories ranged from groping and unwanted sexual advances to constant propositioning.
As a result, top actors in the country have refused to work with Bahl. Meanwhile, Phantom Films, the directors consortium he was a part of along with three other directors, was immediately dissolved by the other directors who wanted nothing to do with a sexual predator. For his part, Bhagat issued an apology, but it was clear this was little more than a token. For example, in his apology Bhagat said that the conversation was "several years old" and that he "erred a bit there." The women he had harassed over email posted the screenshots of the emails where it was clear that the error was certainly not "a bit."
In another instance, a group of 19 journalists came together and put out a public statement against a former high-profile journalist and minister of state for external affairs, M.J. Akbar, and urged Delhi's Patiala house court to "consider some of their testimonies about their experiences at his hands." A serial perpetrator whose sexual abuse of employees at The Asian Age, where he was the editor in chief, perpetuated a culture of "misogyny, entitlement and sexual predation," Akbar was ultimately forced to resign as minister. In 2017, journalist Priya Ramani accused him in an article for Vogue, declaring boldly: "We'll get you all one day."
Other veteran journalists like K.R. Sreenivas and Manoj Ramachandran, currently with the Hindustan Times, and younger journalists like Meghnad Bose, a journalist with The Quint, were named in a slew of sexual harassment allegations that surfaced on Twitter on Oct. 5. Rameez Shaikh, who has previously been a writer for Homegrown, was accused of physically abusing a journalist on a so-called "date".
The advertising world was not free of such criminals, either. Ishrath Nawaz, from the advertising company Publicis, was accused of extending probation time for those who did not cave to his demands.
Many of these allegations were bought forward on Twitter by journalists Sandhya Menon (@TheRestlessQuill), Rituparna Chatterjee (@MasalaBai) and Sheena Dabholkar, the editor and creative director at LOVER, an online magazine, who curated the tweets on the magazine's Twitter page.
A feminist and active campaigner for women's rights, Dabholkar, in 2017, had been the first to publicly protest against the owner of High Spirits, one of Pune's most popular clubs and performance venues, for groping, sending lewd messages and harassing multiple patrons and employees. "Khodu Irani had been harassing women for years," she says. "My friends who had worked there could not complain but I had enough." She tweeted: "This is standard High Spirits. I've had my nipples, tits, weight commented on. Friends have had bra straps tugged, upskirt photos taken. — Sheena (@weeny) October 11, 2017."
Dabholkar started posting every tweet that was tagged with the #MeToo hashtag on her personal Twitter page. She did not edit or reject any tweet, since "gatekeeping tweets would be policing what the people were saying and that is a kind of victim shaming." She had no qualms about collating the stories on her page. "I posted the tweets, but everyone had the right to delete their tweet," she says. She describes the outpouring as "a catharsis of sorts." Underlining crucial elements of the 2018 movement, she adds that "since 2017, people were empowered to speak out, detail their abuse and actually name perpetrators. This fearless approach did not exist before."
India is no stranger to accusations against powerful public figures. For example, singer Alisha Chinai accused a popular music director Anu Malik for harassment in the 1990s and had a restraining order against him. In 2013, Tarun Tejpal, the well known editor of India's premier investigative news magazine, was accused by a young colleague of rape. He is currently out on bail.
But the scale of the #MeToo movement has been unprecedented – not just in exposing the pervasive culture of abuse in professional spheres, but also in showing how educated men in power could take advantage of their fame and position. The movement also garnered crucial support from a majority of women, which other efforts earlier did not.
Last year, Raya Sarkar compiled a list of academics whom women had anonymously accused of sexual harassment. All the survivors had provided screenshots for proof but many women including activists, scholars and senior journalists like Kavita Krishnan, Ayesha Kidwai, Nivedita Menon, Shohini Ghosh and Vrinda Grover put out a statement saying they were "dismayed" at the "Facebook initiative," and calling for "due process" rather than naming and shaming.
Quite a number of tweets, in fact, sent by both men and women harp on the due process of law. "The law does not make people feel safe," explains Dabholkar. "This is also the first time that something like this is happening in India. We do not have a rule book to follow. Also remember the harassment described is not always rape. Sometimes it is behaviors that have made people uncomfortable."
For activists like Dabholkar, Menon and Rituparna Chatterjee, trolls and abuse on Twitter have made the situation tough. For example, one tweet stated "#FeminismIsCancer which is savagely eating away the foundations of a moral, just, stable society. All sane human beings (men, women, trans) need to counter this dystopian evil with egalitarianism (equal rights, duties, punishments for all genders). #MJAkbarResigns #MeToo #MeTooIndia."
"Another on Twitter called the accounts of abuse 'sex stories' and complimented me for collecting them in one place," says Dabholkar. Her account was reported, and she was banned by Twitter. Later her account was restored.
As the #MeToo movement grows and acquires more strength, certain voices that are in the minority, hopefully, will find more space to grow. At the moment, women from English-language media and primarily urban-based, educated people are the ones speaking up. Voices from India's hinterland, villages and towns still need more traction. A few of the tweets bravely spoke about male sexual abuse emphasizing the pervasiveness of male abuse.
"At the heart of this is an important issue," says Dabholkar. "People do not understand what consent is about. I want this movement to develop this. People should be embarrassed at their behavior. Harassers should feel ashamed. Patriarchy has ensured that victims and these overwhelmingly brave women who have spoken out women are being shamed."
Follow the author @ParoP.