It May Not Be A Wave, But A Blue Tide Is Rising In the Deep South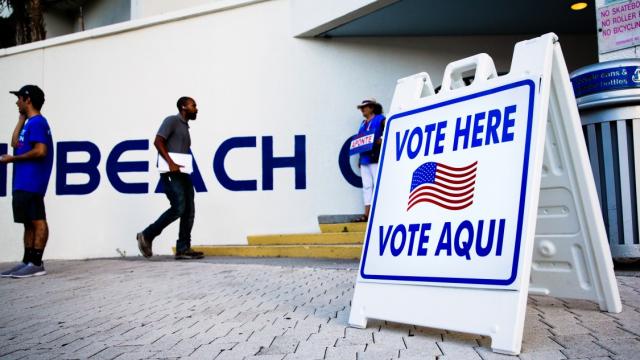 With votes still being tallied in Georgia and Florida and lawsuits proceeding, the change in party control that occurred in many House districts and governors' races has yet to materialize in the Deep South, prompting Republicans to declare victory in the region.
But even if the final result is a victory for Republicans, future elections in these closely watched states, along with Texas, look to be within grasp of Democrats as suffrage expands across the region.
 
Texas
In Texas, incumbent U.S. Senator Ted Cruz defeated his challenger Beta O'Rourke in the most expensive U.S. Senate race in history. Cruz received 200,000 more votes out of more than 8 million total. But in his previous bid for office, Cruz easily won by more than 1 million votes. It has now been more than 30 years since the last Democrat was elected to the U.S. Senate from Texas.
Latino rights organizations made a huge push to get Latinos to the polls. According to ABC News exiting polling, non-whites made up 29 percent of voters nationally, the largest proportion since 1982. Among that group of voters, Hispanics voted 69 to 29 percent in favor of Democrats.
"It was a complete success," Antonio Arellano, communications director of Jolt, a Texas-based organization that develops leaders and registers voters in the Latino community, told Occupy.com of the election results.
In a state where about one-third of the total Hispanic population is under 30, Jolt plans to register 300,000 new young Latinos in Texas by 2020, according to Arellano. Other plans include assisting Latino families with completing the 2020 Census, even if a controversial question – a new initiative of the Trump Administration asking about people's citizenship – is included.
"We're not going to sit this one out. We can't afford to," Arellano said.
 
Georgia
Georgia's election for governor was arguably the most contentious election this year. Republican Brian Kemp, the state's former secretary of state, continues to declare himself the winner but his opponent, Stacy Abrams, who is seeking to become the state's first African-American governor, has not conceded and is waiting until all votes have been counted.
Under Georgia's election rules, if no candidate wins 50 percent plus one, there is an automatic runoff election between the top two finishers. In addition to Kemp and Abrams, libertarian candidate Ted Metz was on the ballot. Kemp's percentage of the vote stands at just a hair above 50 percent.
Kemp was widely criticized, including by former President Jimmy Carter, for not stepping down as secretary of state – the office in charge of administering elections – while running for governor. In that position, Kemp faced numerous allegations of voter suppression. On Nov 2, a federal district court judge ruled against Kemp, ordering his office to allow some new U.S. citizens to cast ballots on election day, estimated to be about 3,000 voters. This provision was part of Georgia's 'exact match' law, which also delayed voting registration for approximately 50,000 potential voters.
In 2017, Kemp's office purged about 100,000 registered voters for not voting in previous elections. Most recent data shows Kemp's lead is less than 100,000.
Just days before Tuesday's election, Kemp's office announced an investigation into alleged hacking by Democrats into the state's voter registration system. Democrats quickly refuted the accusation. Abrams called it a witch hunt. Outlets such as CNN and The New York Times recognized that Kemp offered no proof when announcing his charge. Kemp has now resigned his position as secretary of state, declaring himself the winner, but five Georgia voters have filed suit against him for his role as overseer of the governor's race.
 
Florida
The two major races that have yet to be declared are for the state's governor and U.S. Senate seat. In both races, the Republican candidates lead their Democratic opponents by less than a percentage point. In the governor's race the difference is about 35,000 votes, and in the Senate race the difference is even closer, less than 20,000.
More than 8 million votes were cast in each of the two races. Like in the presidential race of 2000, the focus of the remaining votes is South Florida, a region that is heavily Democratic and could therefore push both Democratic candidates ahead.
Governor Rick Scott, the Republican U.S. Senate candidate, and Donald Trump have claimed massive voter fraud in the South Florida counties that are still counting ballots, without providing corroborating evidence.
Somewhat overlooked has been Florida's ballot measure, Amendment 4, which passed with 64 percent of the vote. The amendment to the Florida Constitution restores voting rights to most felons upon completion of their sentence. Those convicted of murder or sex crimes were not included in the ballot measure. The total number who will have their voting rights restored is between 1 and 1.5 million, making it arguably the largest single expansion of the franchise since the 19th Amendment granted women the right to vote.
Prior to the amendment's passing, about one-quarter of Florida's African-American male population was disqualified from voting due to their status as convicted felons.
Final note: Texas, Georgia and Florida all went for Trump in 2016. The three states account for 83 electoral votes, which could grow after the 2020 Census is released.