Majority of Americans Support a 70% Tax Rate for Mega-Rich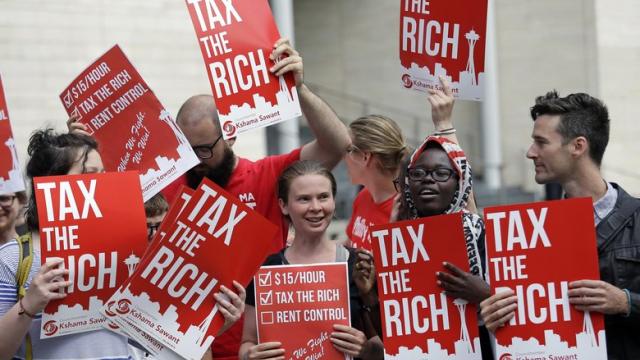 So much for a "radical" idea: Alexandria Ocasio-Cortez's proposal to raise America's highest tax rate to 70 percent seems to be popular with the majority of Americans.
In a recent poll conducted by The Hill, in partnership with research firm HarrisX, responses show that 59 percent of the U.S. public supports raising the marginal tax rate on the richest Americans to 70 percent. What may be even more surprising is that the poll also found that nearly half – 45 percent – of Republicans support the idea. 71 percent of Democratic respondents support it as well.
The poll also showed that women support the idea by a 62-38 margin, men were in favor of it with a 55 percent to 45 percent margin, and Independent voters backed it by a 60 to 40 percent margin.
The results are in stark contrast with the GOP's response to the proposal. Representative Steve Scalise (R-LA) responded to the idea claiming Democrats are trying to "take away 70% of your income and give it to leftist fantasy programs," while others said that it has "no basis in research or evidence."
After The Hill published the results to the poll, Ocasio-Cortez responded on Twitter, "We can win public sentiment, stand our ground, & not be scared by GOP information."
The newly elected Representative also told The Hill, "I don't think it's surprising. What we see, overall, is that the vast majority of Americans know that income inequality is one of the biggest issues of our time."
"This is a policy that is already popular and it's time that we embrace working Americans and it's time that the Democratic Party fights in a full-throated manner for the working class in the United States and to not support a marginal tax rate is to really just allow runaway wealth and inequality to persist," she continued.
Although the GOP clearly doesn't support a 70 percent tax rate, many journalists and economists have pointed out that in the 1980s the tax rate for incomes above $216,000 was at 70 percent and that economic growth has declined alongside the falling tax rates on high-income earners.
Originally published by Nation of Change