Missouri Shows Why Healthcare Plays A Major Role In Next Week's Elections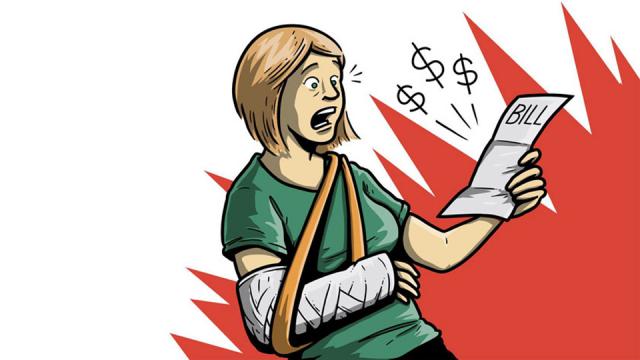 Neither the president, the economy, Russian hacking, nor the Supreme Court is the most important issue in this year's midterms. It's healthcare. Including in Missouri, where the results of the U.S. Senate race could tip control to the Democrats in 2019.
The most recent polling shows the race between incumbent Democratic U.S. Sen. Claire McCaskill and her challenger, Republican Missouri Attorney General Josh Hawley, a "toss-up" with neither candidate having more than a three point margin of error lead.
Currently, the Senate has 51 Republicans and 47 Democrats with two independents (Angus King and Bernie Sanders) who caucus with Democrats. There are anywhere between four and 10 competitive Senate races this year.
In Missouri, at least, recent polling shows that healthcare is at the top of the list of issues voters are concerned about. "We've seen changes and threats, so it's not a surprise that it's a very important issue," Jen Bersdale, executive director of the nonprofit and non-partisan organization Missouri Health Care for All told Occupy.com.
Missouri Health Care for All has lobbied members of the Missouri legislature to implement new laws in recent years. Its primary effort has focused on the area of "surprise medical bills". One of the more notorious examples of surprise medical billing is when a patient who attends an emergency room – even within his or her network, but is treated by an out-of-network physician – is charged at the insurance carrier's out-of-network rate.
Other examples include tests that are not covered by insurance, and prescription drug costs. In the 2018 session, with bipartisan support, the Missouri legislature passed a law ending this practice.
The issue has largely flown under the radar in Missouri this election season, in part because it wasn't one of the areas of healthcare to be directly addressed by the Affordable Care Act, aka Obamacare.
"This is an issue that when we talked to people, it was so obviously unfair and it wasn't part of the Affordable Care Act where people had already formed an opinion, that we found a lot of support in the legislature," Bersdale said.
Medicaid expansion, however, has been a more politically polarizing issue. As part of the ACA, the federal government covers 100 percent of a state's costs for expanding Medicaid coverage and will do so until 2020, when it will reduce that coverage to 90 percent. Opponents contend this is not affordable for states in the long-run.
Missouri is one of 17 states that have yet to expand Medicaid under the ACA. Voters in Nebraska, Idaho and Utah will have a chance to vote for expansion on the Nov. 6 ballot. Proponents in Missouri attempted to get Medicaid expansion on the ballot but were unsuccessful.
Sen. McCaskill has used her state's lack of Medicaid expansion to attack her opponent, who is part of the Republican-dominated executive branch in Missouri. In 2017, McCaskill called for an investigation into the process of Medicaid expansion on rural hospitals. In 2018, the Government Accountability Office issue a report.
"This report confirms what I've heard from Missouri's medical health experts for years – that without expansion of Medicaid, our rural hospitals would struggle to survive," McCaskill said, hammering on her key issue.
"I've worked across the aisle and fought to expand healthcare access for Missourians, but Jefferson City refused to act, and we've since lost vital access to four hospitals."
McCaskill's opponent, Hawley, wrote an op-ed in August in the Springfield News-Leader decrying Obamacare as the cause of millions losing their insurance – a claim Politifact called "upside down".
Hawley is one of 20 state attorneys general to sue to overturn the ACA, claiming that because the individual mandate was eliminated in the 2017 tax cuts legislation, the entire law is unconstitutional. One of the effects, if the law were to be declared unconstitutional, is that insurance carriers would not be required to cover pre-existing conditions.
Polling shows that Americans overwhelmingly support government mandates on insurance carriers to cover pre-existing conditions, even as support for the ACA remains split along party lines.
Now, McCaskill's call for an investigation has brought healthcare front and center to the rural voter. In Missouri, like many states facing toss-up elections, the divide between Republican and Democrat is largely reflected in the divide between rural and urban. Rural areas of Missouri overwhelmingly support Hawley.
In other states, the issue of healthcare coverage could also be an electoral tipping point, like neighboring Kansas, which doesn't have a U.S. Senate election this midterm but rather a gubernatorial race that will likely go down to the wire, in which the Democratic candidate has come out in favor of Medicaid expansion while her Republican opponent has opposed it.
In other hotly contested races, Republican candidates have either changed their position on the ACA or have attacked the ACA abstractly while supporting its provisions.