No More Crime and Punishment: The National Prison Strike of 2018, Part II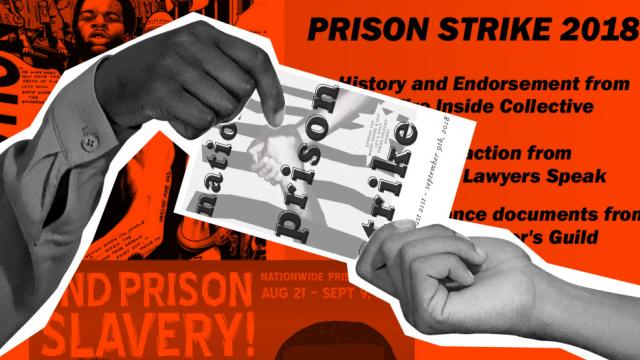 This is the second part of a two-part series analyzing the causes and impacts of this year's nationwide prison strike. Read the first part here.
 
Recognizing Who Occupies Prisons
In the United States, it's too often easy to write off criminal offenders as the "other": They broke the law, so they deserve whatever is given to them, right? But this ignores the greater problem that many people behind bars don't belong there.
They could have been struggling with money, forced to steal in order to afford food for their families. They could have struggled with mental health issues due to their environment and resorted to violence as a way to cope and survive. They could have struggled with a drug addiction and be found guilty of possessing the very substances they used to self-medicate.
Or, as is so often the case, they could have agreed to a plea deal with a judge in order to avoid a potentially long trial and worse sentence if their innocence couldn't be proved – deciding to take a two-year sentence with probation, for example, instead of a 10-year sentence.
Sure, there are hardened criminals who deserve a lifetime in prison. But for the majority of people now living out their lives behind bars, many are simply the victims of a corrupt system that never gave them much choice to begin with. Treating them as the "other" only further harms them, leaving them on the margins to fend for themselves, and unable to find hope outside of incarceration.
Until we, as a country, acknowledge the harm our criminal justice system has inflicted on these people, and work to fix the problem, hundreds of thousands will continue to pay the cost and our country will suffer as non-harmful people get unjustly punished.
So how can America fix its criminal justice problem? Can a beast as big as the prison industrial complex be changed for the good? If other countries have been able to make this happen, there's no reason our country shouldn't try.
 
Prison Models That Work: Changing the Paradigm of "Crime and Punishment"
Perhaps the biggest problem to tackle is why so many people have been incarcerated to begin with. In an interview with WBUR 90.9, author and educator Baz Dreisinger illustrated the way various justice systems around the world are modeled. Dreisinger contrasted this with the American model of "Do the crime, serve the time," which isn't successful helping either victims or offenders.
Dreisinger has traveled the world researching prisons, and stated:
"For one, we need to rethink our assumptions around what victims want and what benefits victims. I think our axiomatic response is, 'Victims want revenge and victims benefit from revenge and benefit from the prison system.' In fact, there are lots of studies that show that that's not actually the case. The other thing I would say is that restorative justice already exists in our system. We're already using this model, we're just using it on a very minimal scale and so what I would say is, Why don't we think about doing this more front and center as opposed to on the fringes and every now and then."
Norway is a common example of how prison systems work for the benefit of society as a whole. As Dreisinger pointed out, "No society is perfect, there are no utopias, but there is certainly a communitarian spirit in which people recognize it's not an 'us' and 'them' thing. It's not 'those people in prison' and 'those evil criminals' but rather 'we're in this together and we all need to deal with this together.'"
Additionally, Dreisinger notes that supermax prisons – which were originally designed to combat gangs – have actually exacerbated the problem, unintentionally promoting gang activity within their walls. Many prisons promote the use of punishment for crimes, and this knee-jerk reaction is what Dreisinger believes needs to change.
Instead of focusing on punishment, she said, the system should shift the focus to recovery and rehabilitation. This could start by promoting treatment centers – something that already exists in our society, but is often reserved for the rich who struggle with addiction – and rehabilitation centers over prisons and jails. Another step could be to employ more social workers in prisons instead of those only focused on criminal justice and upholding systems of power.
 
Converting Criminal Justice to Social Work
People who work within corrections facilities are typically focused on criminology. Social workers, on the other hand, are more geared toward mental health treatment and advocacy for their patients – even those who are serving time behind bars. As Regis College notesabout the importance of social workers in correctional institutions:
" … individuals with mental health disorders who don't get care can end up in prison, turning correctional facilities into ad hoc treatment centers that are not adequately staffed for such a role … Substance abuse and mental health conditions are common among inmates, and many methods used in the correctional industry can exacerbate those issues. In particular, using seclusion and restraint as a form of punishment can cause mental health conditions to escalate."
Again, this problem returns us to the question of how those people become inmates in the first place. The war on drugs has caused many of the problematic criminal justice issues we see today, as those suffering from an addiction are sent to prison for possession charges instead of a rehabilitation center. Additionally, as one study from the Illinois Criminal Justice Information Authority notes, a majority of female inmates in the U.S. (an estimated 60 percent) as well as about 20 percent of male inmates are believed to suffer from post traumatic stress disorder. Failure to receive adequate care and counseling for their trauma could exacerbate their condition and get them into more legal trouble down the line.
 
Focusing on Recovery Instead of Punishment
Around the world, criminal justice systems that work best are often those ones where the offenders are treated as humans who have made mistakes, and are worthy of a second chance with an ability to recover. On the flip side, this sort of system can be seen as the best one for victims, too, since they can find reconciliation with the offender and peace with what has happened to them.
Now over, the National Prison Strike of 2018 could still bring some useful changes to the prison system, but it will be a hard and uphill battle. Despite the numbers of people behind bars who participated, very little media coverage was given to the movement. Even many prison officials and correctional leaders themselves refused to acknowledge that the strike was happening.
It's possible that by the time the strike ended in late summer, those corporations that participate in consigning prison labor began to feel some impacts from the strike, and that potentially brought more attention to the cause. Regardless, the U.S. prison system needs to change and the best way to start doing that, from an individual perspective, is to change your own views about who exists behind bars: people worthy of a second chance.