"Quite A Radical Policy": Manchester Bans Fracking In Victory for U.K. Activists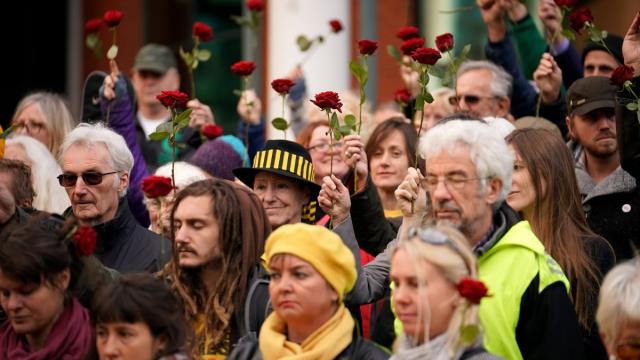 Making significant inroads to stamp out the environmentally damaging and controversial practice of fracking, Manchester in northwest England has announced it is effectively banning the industry.
In one of the biggest combined authority efforts to eliminate fracking nationwide, all ten local authorities, or councils, in Greater Manchester will establish planning measures to oppose any bid to start fracking in the region.
Under the new legislation, the local authorities will write a "presumption" into their planning policies against any request to drill for shale gas.
Shale gas exploration companies like Cuadrilla Resources could appeal planning rejections, but the hope is that this move will strengthen councils' legal argument against fracking and deter plans from being submitted in the first place.
The efforts come amid growing concerns about safety and the environmental damage of what has been condemned as "environmental and human destruction at its very worse."
Anti-fracking campaigners see the move as a victory, saying it's a sign that the tide is turning against the highly contested method of using hydraulic fracturing to extract shale gas from the earth.
As Tony Bosworth, a Friends of the Earth campaigner, told Metro News: "Local communities have been battling fracking for years, so it's great to see large authorities like Greater Manchester coming out in opposition to this dirty industry."
Recent years have seen multiple legal battles and court challenges between campaigners and Cuadrilla, the controversial oil and gas exploration giant headquartered in Lancashire, Greater Manchester.
Traditionally, rulings for such battles haven't swung in environmentalists' favor, with the government siding with shale gas interests, allowing corporate giants to often come out on top. For example, in July 2018, the government gave Cuadrilla the green light to begin fracking at the Preston New Road site in Lancashire, subject to certain conditions.
The fate of anti-fracking protestors has also been subject to corporate demands, with Cuadrilla winning injunctions to prevent protests at sites and activists even being jailed for their efforts to thwart the process.
Last September, three environmental activists became the first people in the U.K. to receive prison sentences for being involved in an anti-fracking protest. The protest was held in Blackpool and the three men were sentenced for blocking a Cuadrilla lorry convoy.
Cuadrilla's repeated victories over campaigners came despite the company's operations being repeatedly halted due to earth tremors caused by the chemical injection process. The company insists the quakes are not a major concern, but activists beg to differ.
"It appears that they cannot frack without triggering tremors," Bosworth told The Independent, "and instead of acknowledging that fracking needs to end, Cuadrilla are instead urging for regulations around earthquakes to be relaxed."
Nonetheless, the government has remained supportive of the industry. In fact, so many ministers have sustained their support for fracking that in 2018 plans were unveiled to accelerate the development of new drilling sites across the country.
 
Manchester's anti-fracking impact
However, thanks to the efforts of Greater Manchester and the city's mayor, Andy Burnham, the fate of fracking in the U.K. could take a new turn. As part of Manchester's efforts to be carbon neutral by 2038, councils in Greater Manchester are to implement a presumption against all applications made to develop gas extraction sites.
Mayor Burnham described the move as "radical" and one that makes a "big statement."
"This is quite a radical policy, making quite a big statement," Burnham told the Manchester Evening News. "It's a firm position on behalf of the ten boroughs and Greater Manchester as a whole, where we have large numbers of potential sites."
In October 2018, fracking began in Lancashire over fierce opposition at the local level. Lancashire's council had voted to reject Cuadrilla's planning application at the site, but the objection was overruled by the government.
By establishing planning measures to create "presumption" against fracking, Greater Manchester is forcing ministers and shale gas exploration companies to surmount steeper barriers in their quest to get a green light for drilling.
Greater Manchester might be leading the way in establishing tangible blockades for fracking plans, but it's not the only U.K. region working to stamp out the environmentally costly activity. London Mayor Sadiq Khan has announced plans to block fracking plans in the capital and other major cities. Meanwhile, Leeds, Nottinghamshire and York have expressed their opposition to the practice.
Opposition to the industry seems to be especially potent in Manchester, however. In 2016, a huge anti-fracking protest took place in the city with more than 2,000 campaigners making their way through the streets to protest the government's overruling of Lancashire County Council's decision to stop fracking at Cuadrilla's Lancashire site.
Anti-fracking campaigners in the north-west hope their constituencies will follow in Greater Manchester's footsteps and set out plans to ban fracking. One such constituency is the High Peak, an urban borough in Derbyshire in the north-west of England not far from Manchester.
Catherine Hughes, secretary of the Hayfield and New Mills Branch Labour Party in the High Peak, spoke to Occupy.com about Greater Manchester's recent announcement and how it could reverberate across the region.
"Hayfield and New Mills Branch Labour Party are delighted with this decision to ban fracking in all ten Greater Manchester councils. This is a great victory for the Preston New Road activists and all other anti-fracking activists," she said.
"We sincerely hope that neighboring constituencies, including the High Peak, will adopt a similar position. We have already written to High Peak Borough Council to request they declare a state of climate emergency, and have presented a motion to Constituency Labour Party to request a Climate Change Minister be appointed at government level as soon as possible to coordinate meaningful and urgent action."
 
Fracking and Brexit
Greater Manchester's efforts to thwart the fracking industry could prove even more consequential as Britain threatens to leave the European Union without a Brexit deal in place – as the country's E.U. departure could lead to a ramp-up in fracking across Britain.
Legislation that regulates fracking stems from 15 different European Directives., including E.U.-wide agreements on climate change, water contamination, chemicals, air pollution, biodiversity, environmental liability and a requirement for local communities to be consulted to assess potential adverse effects.
Failing to transfer such legislation into British law means the U.K.'s already inadequate fracking regulations could become even weaker. As Friends of the Earth noted: "It's reasonable worry that the government will not faithfully transfer these laws. They have often made clear that they think fracking regulation is already too restrictive and have opposed proposals to tighten it."