Tenant Fees Bill Tests Britain's Ability To Protect Its Renters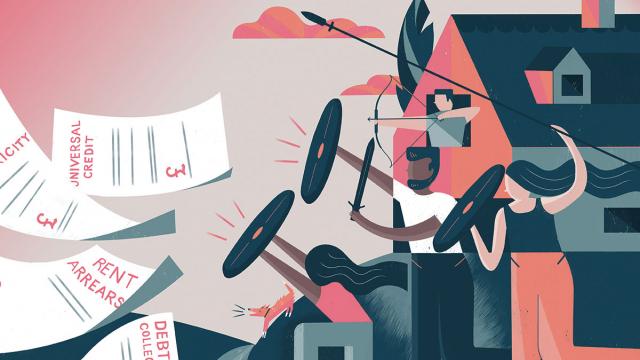 One in three U.K. millennials – people currently between the ages of 20 and 35 – will never own a home, according to a report published earlier this year by the Resolution Foundation. Almost one in four U.K. households will be renting privately by 2021. The call for increased rental protections against "rogue" landlords especially is growing, but not fast or aggressively enough.
Controls on private renting in Britain have long been criticized for being lax, with stories of tenants charged extortionate figures for small repairs and being forced to pay for jobs like fitting smoke alarms, a service councils already provide for free. The government's Tenant Fees Bill, now proceeding through parliament asks MPs to vote through legislation that makes landlords and letting agents provide clearer receipts for works done, and places caps on the fees they can charge tenants.
It also imposes a legal requirement that tenants' payments be paid into a government-approved protection scheme.
"The Tenant Fees Bill is good news for renters and recent changes inch millions of people closer to important protections," said Polly Neate, CEO of the housing charity Shelter. "It's great that renters can no longer be fined hundreds of pounds for something as simple as losing a key, but it still doesn't stop landlords charging for a whole range of ridiculous things like cleaning cobwebs from light fittings."
Neate is adamant that the bill be "completely watertight" before it is introduced, which involves "getting rid of unfair charges".
Like Shelter, the campaign group Generation Rent is likewise concerned that the bill must provide proper protection from unfair charges and not allow for loopholes. "The Bill sets out to ban almost all the fees that letting agents have been routinely charging to tenants, which mean that renters have to pay unnecessary charges whether they renew a tenancy or move home," a spokesperson Dan Wilson Craw told Occupy.com.
"It is essential that the proposed exemptions that allow landlords to recoup costs incurred if the tenant breaches the tenancy cannot be abused. In the latest debate, the government has made amendments to define these but there are still ways the bill needs to be tightened up in the House of Lords."
Wilson Craw estimated that "with a ban on fees, tenants would save an average of £400 when they move home. We still think that it will improve things for renters overall in terms of reducing tenant fees from letting agents but there remain loopholes within the bill within leave tenants open to abuse from letting agents."
Wilson Craw's colleague, Hannah Slater, added that she is concerned some of the measures imposed by the bill will be purely tokens. "Security deposits will be capped at six weeks but that won't really make much difference to most people," said Slater, who worries that ongoing austerity measures make the bill's enforcement a struggle.
"Any piece of legislation is only as effective as its enforcement," she said. "We know that local authorities are already struggling because of cuts to councils which have stripped housing teams to the bare minimum."
A spokesperson for the London Renters Union, Katya Nasim, went further. "The relationship between renters and landlords is usually unbalanced and we're aiming to shift that balance of power by organizing renters," she said.
"In a similar way to trade unions, it's about building renter power through collective action. The Tenant Fees Bill doesn't really do anything to change the fundamental realities of private renting. Lots of people are – and will still be - stuck paying extortionate rent and security deposits they can't afford. People are increasingly facing eviction and homelessness because they can't pay the rent and fees."
Nasim said the government's ongoing benefits overhaul, Universal Credit, will continue to have adverse effects for many renters – something that the Tenant Fees Bill seemingly fails to address.
"Universal Credit is a massive shift in the benefits system and we know that it's leaving people in poverty," Nasim told Occupy.com. "It seems that in the process of transitioning to Universal Credit, many people are being left without money to pay rent, which puts them in a position of rent arrears and opens up the possibility of eviction. We've seen many people suffering because of delays in their Universal Credit payments.
"The roll-out of Universal Credit is going to leave thousands of private renters without enough money to pay the rent and therefore at risk of homelessness. There are millions of people privately renting and in receipt of benefits, and they are a vulnerable group."
One of those tenants, Sarah (not her real name), said she will be affected by the bill. "I've had endless trouble with my landlord," she told Occupy.com. "Repairs to my home have gone into the hundreds [of pounds] and I've seen little evidence of where that money has gone. At the moment, my landlord is not prevented from operating in a way that favors her rights and ignores mine."
Sarah has considered moving at the end of her tenancy, but being under 35, single and claiming a lower rate of housing benefit means "there isn't much choice of alternative accommodation in this area" for her. She said she wants to live near her mother, who is currently battling cancer, so for the time being she is staying where she is. She hopes the new Tenant Fees Bill will give her more freedom to choose where to live "without exploitation".
The most recent reading of the Tenant Fees Bill took place in the House of Lords on Nov. 5. If the reading of the bill stays on schedule, it could be passed next year. For millions of renters like her, said Sarah, a robust set of policies around rental law would be life-changing.