Trump's Solution To Worldwide Climate Immigration Is To Build More Walls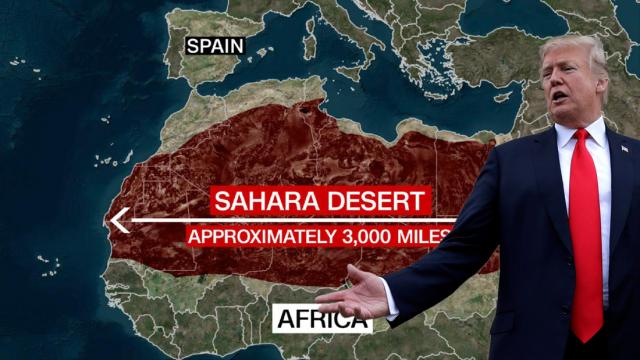 As the migrant crisis escalates in the Mediterranean, Donald Trump has suggested an easy solution to the Spanish government. The Spanish foreign minister revealed that Trump told his government it should emulate his own infamous policy of promising to build a wall: this time across the Sahara desert.
Trump's genius solution to complex foreign policy issues may have been lifted straight from the TV show "Arrested Development." But that hasn't stopped him from touting the idea to everyone who will listen, and even some who would rather not, like Spanish Minister of Foreign Affairs, Josep Borrell i Fontelles. Displaying his minimal understanding of geography and foreign policy, Trump suggested that Spain build a wall illegally in another continent to stop the increasing flow of immigrants from Africa.
It echoed Trump's own campaign promise to build a "big, beautiful wall" along the U.S.-Mexican border. Trump allegedly made the remark to Borrell i Fontelles in June while he was visiting the White House with Spanish King Felipe and Queen Letizia.
This year, Spain overtook both Italy and Greece to become the number one point of entry for immigrants entering Europe, after 33,600 made the dangerous sea crossing and 1,723 died in the attempt, according to the International Organization for Migration. The fact that most of the African migrants entered Spain by sea was apparently lost on Trump.
Minister Borrell i Fontelles told those gathered at a recent event in Madrid: "Closing ports is not a solution, and neither is building a wall along the Sahara like President Trump suggested to me recently."
As a former president of the the European parliament, Borrell i Fontelles has accused Europe of "ostrich politics" by hiding its head in the sand over migration in the past. However, in July, he told The Guardian: "We're talking about 20,000 migrants so far this year for a country of more than 40 million inhabitants… That's not mass migration." He went on to call for more perspective on the matter, as Spain's immigrant problem is dwarfed by the actual mass immigration challenging Middle Eastern countries that are hosting refugees from the war in Syria in much larger numbers. He added, "We're trivializing the word 'mass.'"
According to reports by El País and Europa Press, Borrell i Fontelles also suggested: "We've sorted the economic problem, but not the migration problem because it's an emotional problem and not one you fix with money… European societies aren't structured to absorb more than a certain percentage of migrants, especially if they are Muslims." However, one of the most popular E.U. destination for migrants, Germany, has registered more than 10,000 asylum-seekers every month this year, proving that the infrastructure in Europe is capable of more.
In response to Trump's comment – "Just build a wall that borders the Sahara" – Borrell i Fontelles scolded the president's ignorance, saying; "Do you know how big the Sahara is?" It's not the only problem with Trump's plan, but perhaps the most apparent one. True to form, Trump reportedly replied to Spanish diplomats that "the Sahara border can't be bigger than our border with Mexico."
The truth is that the Sahara is 1,000 miles longer than the U.S.-Mexico border. The Sahara also spans 11 different countries. Although Spain has two small overseas territories in Africa, Ceuta and Melilla, the country does not nearly cover the breadth of the Sahara – meaning that any semblance of a wall would have to be built illegally on foreign land in Algeria, Chad, Egypt, Libya, Eritrea, Mali, Morocco, Mauritania, Niger, Sudan and Tunisia.
Currently, 43 percent of refugees and migrants from Africa pass into Europe via Spain. The number entering Spain is three times higher this year than in 2016. The dramatic increase has strained reception facilities and infrastructure on Spain's southern coast, and has sparked renewed political debate about immigration. After being turned away from both Italy and Malta, the rescue ship Aquarius was allowed to dock in Spain after socialist Prime Minister Pedro Sánchez agreed to accept the 630 refugees onboard.
The move was praised by a majority of Spain's people, but not everyone. Rightwing political parties accused Sánchez of double standards and being too accepting of immigrants. Two high fences currently separating Ceuta and Melilla from Morocco have become the epicenter of the country's controversy over migrants trying to enter Europe.
Trump may naively believe that his expert opinion on Spanish foreign policy will fair better than the U.S-Mexican wall he promised to make Mexico pay for during his election run in 2016. Since Trump took office in January 2017, estimates have shown that his wall would cost more than $20 billion and spending agreements that were passed by the U.S. Congress have not managed to provide the funds needed.
Yet despite the failure of his own wall getting built, Trump apparently sees the concept as the answer to all migration woes across the world. However, for most, the response is to remain skeptical about deceptively simple answers to complex problems – and to remember that foreign policy is about building bridges, not putting up walls.