277 Events Nationwide Protest #FakeTrumpEmergency
This article originally appeared on
America's Voice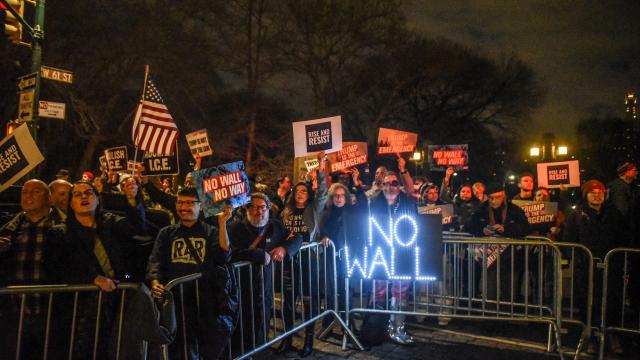 Donald Trump declared a national emergency in his attempt to get a border wall last Friday, and since then advocates and organizations have been mobilizing to make it clear that this is an egregious abuse of power which will not go unanswered. Protesters have signed tens of thousands of petitions, made calls to Congress, and filed lawsuits. And on Presidents' Day, thousands of rally-goers converged at 277 events in 48 states hosted by more than 100 partners — led by MoveOn.org — to stand up against the #FakeTrumpEmergency.
Many of them have highlighted the Trump Administration's ongoing attacks against immigrant communities, while others have pointed out the various real emergencies that the White House has done nothing about, from gun control to climate change.
From New Jersey to Pennsylvania to Massachusetts to Florida to Missouri to South Carolina to Alabama and elsewhere — many of the western and West Coast events have not yet occurred as of this writing — here are some of our favorite photos and tweets from today's day of action:
And that's just a few of them...