Brexit Chaos Means Likely No End To Britain's Punishing Austerity Cuts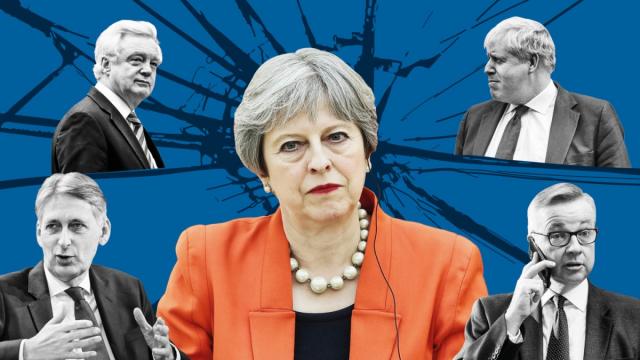 With hard Brexiteers jumping ship and members of the prime minister's own party wondering aloud if she "knows where we are going" amid last week's chaotic negotiations to leave the E.U., at least one thing seemed clear: Britain won't be ending its crippling austerity measures anytime soon.
As an EU deal shows little sign of being settled, the prospect of a no-deal Brexit isn't off the cards – and with it, more economic carnage while the government fails to terminate its disastrous public spending cuts in order to keep reducing national debt.
Prime Minister Theresa May herself declared in September, at the Conservative Party Conference, that she would end public spending cuts and the austerity regime after eight years of belt tightening had, in her words, "paid off", with "better days" for Britain lying ahead.
After Brexit, the government plans to boost investment in public services while continuing to reduce debt, May promised. Naturally, such bold and optimistic claims led to a rapturous applause by the Tory-filled auditorium, but the cheers were quickly followed by skepticism and doubt that the austerity-driven government will really put an end to the severe cuts in public services.
Adding irony to May's bluster about stamping out austerity when the U.K. officially exits the E.U. were Chancellor Philip Hammond's comments, which came just days before the PM's speech, saying a no-deal Brexit would necessarily mean a fresh round of austerity.
Speaking during the Huffington Post's "Austerity Bites" series – which highlighted the dark side of austerity, detailing the suicides committed due to slashed welfare benefits – Hammond admitted the government will be forced to "refocus" its priorities if the country crashes out of the E.U. without a deal.
The Chancellor indicated that government departments could be forced to reduce spending programs to help fund the economic blackhole a no-deal Brexit would create.
"In no-deal circumstances we would have to refocus Government priorities so that Government was concentrated on the circumstances that we found ourselves in," Hammond told the BBC. His comments were a world-apart from May's buoyant declarations that the age of austerity was over once the country officially divorced from Europe.
The opposition party was quick to pounce on May's pledges that ran contrary to the Chancellor's sober analysis, as Shadow Chancellor John McDonnell said the prime minister's words "lacked credibility". Referring to data from the Institute of Fiscal Studies indicating that 75 percent of the welfare cuts for 2018 are yet to happen, McDonnell said May's remarks "did not hold water."
His sentiment was shared by Labour Party Leader Jeremy Corbyn, who tweeted that May's claims of austerity being over amounted to "a great big Tory con."
Around the same time as May opened debate about stamping out eight years of punitive austerity measures in the wake of the U.K.'s E.U. departure, The New York Times published a harrowing report about austerity's real-life effects in Britain.
The report focused on a school in the town of Morecombe, in north-west England. Staff at a primary school in Morecambe note that around two years ago, the number of pupils returning to school undernourished after breaks at home had increased. At first, staff were puzzled at the rise of undernourished children, but it soon dawned on them that the increase in hungry pupils at the school coincided with the "clumsy introduction of a new welfare program."
Siobhan Collingwood, head teacher at the school, told the Times: "As we spoke to parents, it became clear that for many of them, it was caused by changes to the benefit system rolled out in recent years, which were forcing families into crisis."
A program of austerity spending cuts was introduced by the Conservative/Liberal Democratic coalition in 2010 as a means of reducing the national deficit via cuts to public spending. Eight years of cutbacks to vital public services and welfare benefits have taken their toll on the people of Britain, with the poorest and most vulnerable bearing the brunt of painful ongoing austerity.
As the primary school in Morecambe poignantly highlights, with a growing number of hungry children struggling to find food outside of school, one example of the detrimental pitfalls of austerity is the sharp rise of child poverty.
Government figures released this summer show the number of children living in poverty across the United Kingdom has surged by 100,000 over the past year, with 4.1 million children – some 30 percent across Britain – now living in relative poverty after household costs.
This compares to 4 million the previous year. Relative child poverty is based on children living in households that generate an income of 60 percent of the median household income in the U.K., adjusted for the size of the family and after housing cuts.
The grim data has fueled concern about the damaging effects of cuts and changes to welfare benefits. As Labour MP and Shadow Work and Pensions Secretary Margaret Greenwood told the Independent: "These figures show that after eight years of Conservative austerity, Labour's progress in tackling child poverty has been reversed with a shocking increase in the numbers of children living in poverty.
"No child should be forced to grow up in poverty. The next Labour government will make tackling child poverty an immediate priority," Greenwood said.
Celia Pickard, former head teacher at a primary school on a deprived estate in Macclesfield in north-west England, also vouched for the alarming rate of child poverty that teachers witness today in schools across Britain.
"Just last year I would buy children shoes to replace ones that were painfully too small for them or to replace the summer sandals they were wearing in the depths of the winter because mum and dad couldn't afford to buy new ones," Pickard told Occupy.com.
"I don't believe austerity will end under this Conservative government. Only Labour have the policies in place to realistically put an end to the cuts the poorest families are being forced to live with."