Extinction Rebellion: Thousands of Climate Protesters Block London Bridges, Dozens Arrested
This article originally appeared on
The Independent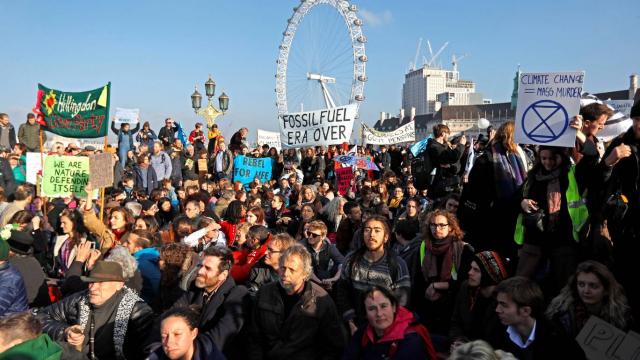 Environmentalists occupied five bridges in London on Saturday to highlight government "inaction" on climate change.
The Extinction Rebellion group said more than 6,000 people blocked the crossings at Blackfriars, Waterloo, Westminster, Lambeth and Southwark from around 10 a.m.
At least 85 activists were arrested for obstruction of the highway and bail act offenses during the demonstration.
The Metropolitan Police said the protests caused "significant traffic disruption" in central London before all the bridges were reopened by around 4 p.m.
Activists then moved on to a rally in Parliament Square, where officers moved in to surround the statue of Winston Churchill after a green flag was attached to his walking stick.
Comparing themselves to U.S. civil rights campaigners, the protest group said radical action was necessary to "raise the alarm" about the looming climate crisis.
"We represent a huge number of concerned citizens – scientists, academics, politicians, teachers, lawyers, students, children, parents, and grandparents," said organizer Tiana Jacout.
"We have tried marching, and lobbying, and signing petitions," Ms Jacout added. "Nothing has brought about the change that is needed. And no damage that we incur can compare to the criminal inaction of the UK government in the face of climate and ecological breakdown."
Writer George Monbiot joined the protest at Blackfriars bridge. "Something I have been waiting for, for a very long time is happening," he said.
"People are risking their liberty in defense of the living world in very large numbers. It is only when we are prepared to take such action that people begin to recognize the seriousness of our existential crisis."
Extinction Rebellion said 50 people were arrested following several actions staged in London earlier this week, including the spray-painting of walls surrounding the House of Parliament.
Others chained themselves together and glued their hands to the entrance of the Department of Energy.
Activists also unveiled a banner that read "We're f****d" over Westminster Bridge.
The group wants the U.K. government to commit to net zero carbon emissions by 2025 and reverse policies inconsistent with addressing climate change.
Campaigners are also demanding a "citizen's assembly" to be set up to allow ordinary people a voice in creating new environmental policies.
Dozens of major countries are pursuing environmental policies that would lead to temperature rises exceeding 5°C by the end of the century, according to a new study by Australian and European researchers.
Last month a landmark UN report warned that greenhouse gas emissions must be cut almost in half by 2030 to avert global environmental catastrophe.
The panel of scientists found that worst effects of global warming will only be prevented if the global temperature increase stays below 1.5°C.
Originally published by The Independent