Rebel Cities 20: With Hip-Hop As Sound Track, Young Senegalese Say Enough Is Enough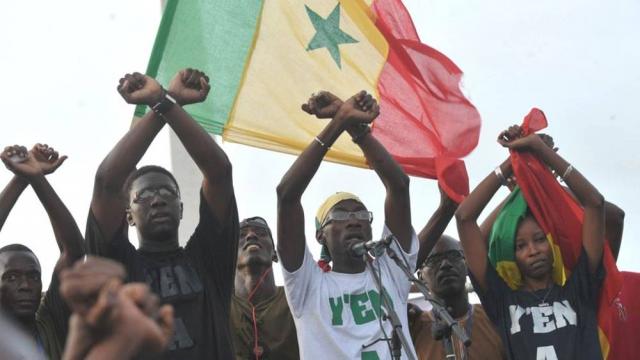 This is Part 17 in a series about Radical Municipalism looking at ways people worldwide are organizing in their cities to build power from the bottom up. Read Part 1 (Brazil), Part 2 (Rojava), Part 3 (Chiapas), Part 4 (Warsaw), Part 5 (Bologna), Part 6 (Jackson, Miss.), Part 7(Athens), Part 8 (Warsaw & New York), Part 9 (Reykjavík), Part 10 (Rosario, Argentina), Part 11 (Newham, UK), Part 12 (Valparaiso, Chile), Part 13 (Porto Alegre, Brazil), Part 14 (Montevideo, Uruguay), Part 15 (Venezuela), Part 16 (Cape Town), and Part 17 (Congo), Part 18 (Jemna, Tunisia), Part 19 (Gdansk, Poland).
"The leaders hang on to the power

In spite of the opposition of the population.

Politicians are all the same, no difference.

Only broken promises and lies.

We are fed up of your nonsense,

We really need change."
These are the lyrics of Senegal hip hop artist Keur Gui in the 2014 song "Diogoufi," which means "Nothing has changed." The group is active in political organizing, walking the talk of their lyrics. In 2011, its leading vocalists were at the forefront of the Senegal Y'en A Marre ("We Are Fed Up"), founded in the capital Dakur alongside other artists, academics and activists.
What sparked Y'en A Marre into existence was Senegalese President Abdoulaye Wade's aim to rewrite the country's constitution enabling him to stay for a third term. Keur Gui's singer Thiat was arrested and detained following a rally in Dakar's Obélisque Square where he was accused of calling the 85-year-old president a "liar" and unfit for office.
The Y'en a Marre movement played a crucial role in Wade's electoral defeat in 2012, when he was replaced by Macky Sall. More generally, the group rallies against the social precarity facing Senegalese society, especially its youth. Hip hop artists like Sidat Fall, aka Pacotille, have brought attention to social injustices, including the poverty of taxi drivers and the rise in sex work, driven by rising inequality.
What started in the capital broadened nationwide with a municipalist dimension and, simultaneously, spread beyond Senegal. Hip hop was one means of transmission. While global attention in 2011 focused on the Middle East and North Africa where the Arab Spring took root, and on the Spanish Indignados and the Occupy movement, what happened – and continues to happen – south of the Sahara is often neglected. There is a similar void in the global radical municipalist movement, and its discourse, across the rest of the vast African continent.
Senegal and Y'en A Marre
After French colonial rule ended in early 1960, Senegal did not suffer the violence and wars compared to some of its neighbouring countries. But Senegal still suffered its share of corruption, infrastructure failures and other problems. In 2011, President Wade's attempt to stay in power came alongside regular electrical power shortages and a growing social crisis caused by austerity and increasing government corruption.
"We discussed the fact that a group of imams from [the coastal department] Guediawaye had mobilized themselves to speak out against the constant cuts in electricity. So we said to ourselves: If the elderly are taking a stand, how come we, the young, don't?" explained journalist Aliou Sane, a founding Y'en A Marre member, said in an interview.
"We decided something had to be done. We considered founding a new political party, but quickly dismissed the idea. We felt there was a need for a new movement and area of expression, inclusive and open to all."
Y'en A Marre organised mass rallies in Dakar that were crucial to President Wade losing the election. They mobilised people to use their vote; nonetheless, an estimated 1 million young Senegalese did not vote in the election, and even sometimes sold their votes.
But changing the president in 2012 did not end the movement's work. Since the outset, Y'en A Marre has faced harassment, beatings and arrests by the police. It has led a bottom-up approach – similar to radical municipalists elsewhere in the world – reaching out across Sengalese society, making the movement harder to suppress en masse.
Decentralising through hip hop and local chapters
Another co-founder of Y'en A Marre, Aliou Sane, explained in the same UN interview that one of the group's first campaigns targeted people selling their votes, under the title: #Jaay sa carte, jaay sa ngor" ("Sell your card, sell your dignity").
"First we organized marches, but were soon stopped by the police. So we divided ourselves into smaller groups, and went around the popular blocks in town, armed with a stereo playing the Y'en A Marre single. We got stopped again and accused of disturbing public order," said Sane.
"But as Dakar and Senegal has lots of talented young rappers, our next step was to hop on a bus, distribute flyers and rap about the country's situation and the importance to register to vote, and then get off a couple of stops later. We also collaborated with the media and there were televised programs and shows where we appeared to raise awareness."
Another locally focused campaign happened in the city of Rufisque, in western Senegal, where the movement created a platform allowing residents of the city to take their complaints directly to the municipal government. It was called "1000 complaints to the Government" and gave anyone who wanted the chance to have their say.
Y'en A Marre also drew its power from the way it formed into local chapters, known as "Esprits," spread out across the country. These decentralised groups work under the principles of non-violence and inclusion, comprising at least 25 people each, with a minimum of 10 women. Today, two separate actions are hosting civic workshops and vocational training, creating hubs where all parts of Senegalese society can organise.
A New Type of Sengalese
The strategy of harnessing municipal activism – including building Esprits – in addition to holding mass rallies was not only pragmatic, helping the movement avoid some of the political violence and repression that continues across the country. Y'en A Marre also wanted to reach out across society to push forward the idea of a New Type of Sengalese. Although the group does not define this strategy explicitly as radical municipalism, it has strong connections to the broader global trend.
As Y'en A Marre defines it, New Type of Senegalese is about encouraging civic engagement, being self critical and thinking about how you tackle society's problems. It is framed around the understanding that change will not be gifted from above, but driven from below. Ultimately, New Type of Senegalese is about demonstrating that another Senegal is possible.
Hip hop beyond borders
What burst out of Dakar in 2011 quickly resonated across Senegal. The Y'en Marre movement inspired the Balai Citoyen movement in neighbouring Burkina Faso, which catalysed the end of the government of Blaise Compaoré in 2014. Y'en A Marre activists have also travelled to Democratic Republic of Congo where they faced arrest for their efforts expanding democratic possibilities.
Hip hop, music and other art have driven other movements across the African continent, also those not directly linked to Y'en A Marre. These include Seun Kuti, who took a leading role in Occupy Nigeria strikes and mass actions. In South Sudan, musician-artist collective Ana Taban uses art to call for peace. And in Tanzania, the hip hop artist Joseph Mbilinyi has been elected as a Parliamentarian and this year was imprisoned for speaking out.
These creatively led movements speaks of an even broader popular protest movement that has increased across the African continent in the last decade at the same time that popular protest has increased globally. While the following words are rapped by Keur Gui about Senegal's government, the sentiment could as easily have been made about neoliberal politics the world over:
"Lazy regime

No vision

Permanent mess

No solutions

Get out of here!"
Read Part 1 (Brazil), Part 2 (Rojava), Part 3 (Chiapas), Part 4 (Warsaw), Part 5 (Bologna), Part 6 (Jackson, Miss.), Part 7(Athens), Part 8 (Warsaw & New York), Part 9 (Reykjavík), Part 10 (Rosario, Argentina), Part 11 (Newham, UK), Part 12 (Valparaiso, Chile), Part 13 (Porto Alegre, Brazil), Part 14 (Montevideo, Uruguay), Part 15 (Venezuela), Part 16 (Cape Town), and Part 17 (Congo), Part 18 (Jemna, Tunisia), Part 19 (Gdansk, Poland)