In U.K. Welfare Overhaul, Many Worry Universal Credit Will Devastate Poor Families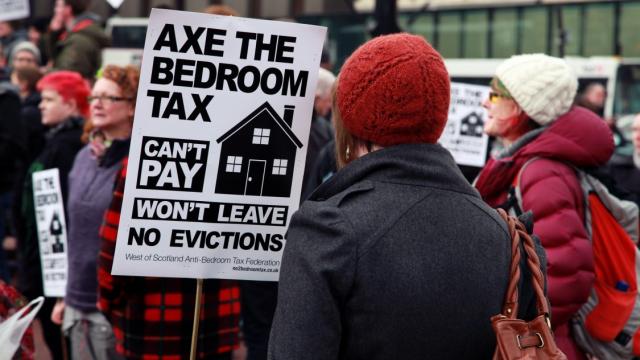 A report released last week by a committee of U.K. Members of Parliament urged Prime Minister Theresa May to suddenly halt the roll-out of Universal Credit, the new U.K. benefits system, after it found that people already receiving Universal Credit were suffering "acute financial difficulty."
Universal Credit has been designed to replace separate benefits including Income-based Jobseeker's Allowance, Income-related Employment and Support Allowance, Income Support, and Working Tax Credit claims. It also affects Child Tax Credit and Housing Benefit. The roll-out began in 2014, and 49 Job Centre areas now have Universal Credit, with government aiming to complete the process by 2022.
However, amid reports that many people have in fact been made much worse off by Universal Credit – often plunged into poverty and even homelessness due to a six-week (or longer) wait for their first payments – the government has succumbed to pressure to halt the roll-out. Until now, officials have only said that those people struggling while they wait for payments can apply to receive a portion of their benefits in advance.
Simon Duffy, founder and director of the Centre for Welfare Reform, said he is concerned that Universal Credit is an inherently unstable system. "Universal Credit is an example of the worst kind of policy – a bad idea, and badly implemented," he told Occupy.com.
"It is a bad idea because it wrongly assumes that the best response to growing poverty, job insecurity and low pay is to continue to reduce the value of benefits, whilst making those benefits less secure. And it is inevitably difficult to implement because it involves integrating information about benefits with information about salaries and other income, without integrating the relevant government departments [like] the Department for Work and Pensions and Her Majesty's Revenue and Customs."
In fact, Duffy sees the offer of advance payments as just another way to plunge vulnerable people into more debt.
"The government is in denial about the reality of severe deprivation in the U.K. Any delays in income will push many people who are already living in poverty and debt into extreme distress. It is an indictment of modern Britain, where public and private indebtedness is rife, that the solution to every problem is to create more debt," he added. "There used to be a tradition of thought within the Conservative Party which valued society, community and the family, which was very cautious about treating people as if they were only economic units, and which did not want to interfere unduly in the lives of ordinary people. Sadly, this more human version of Conservatism seems to have died."
Gail Ward, a campaigner with the disability rights groups Disabled People Against the Cuts (DPAC) and Black Triangle, said she worries that combining the Income-related Employment and Support Allowance disability benefit with unemployment benefits for non-disabled claimants will mean less attention for disabled claimants' specific needs.
"The only disabled people on benefits who aren't going to be affected until 2019/2022, it seems, are the Support Group," Ward explained, referring to those people who are disabled and are not expected to return to work, even with support, due to the severity of their disabilities. At the same time, "the premium cuts are going to make many people who are disabled, and who could possibly be in the wrong group, become job seekers and thus face full conditionality," meaning that they must prove they are consistently looking for work, at 35 hours a week.
Ward, has written a report on Universal Credit that she presented to the UN, said she is specifically concerned about attacks to the Personal Independence Payment, a top-up benefit that isn't listed in the government's collection of benefits affected by the rollout of Universal Credit, but which could nevertheless find itself affected by default.
"PIP used to be based on your medical condition, but now it's a functional assessment. They're linking Employment and Support Allowance and Personal Independence Payment, so if you lose one you potentially lose the other," she said. Even those who have been diagnosed with a limited time to live will be expected to look for work if that period is over six months.
"People who are terminally ill and don't have a DS1500, which is the form that the consultant has to sign to say you've got six months to live, could be subject to full conditionality. Someone could be in hospital three or four times a week for blood tests and other appointments, on top of the chemotherapy, but they have to keep filling in job applications or they'll get sanctioned and their money stops," said Ward.
Another close observer of the issue, Peter Beresford, Professor of Citizen Participation at the University of Essex and Emeritus Professor of Social Policy at Brunel University London, blamed a naïve and excessive reliance on technology — and an element of hubris about a so-called "good idea" that is actually simplistic and not fit for purpose — that he said is at the root of the Universal Credit fiasco.
"I think that there are lots of issues of ideology connected to benefit reform and Universal Credit," Beresford told Occupy.com. "But there's also a common theme running through efforts to improve modern public services, from National Health Service information through to welfare reform, and it's this idea that you can simplify things through the application of modern technology."
Beresford is concerned that Universal Credit is merely a way to save money and create less work for those assigning benefits payments – creating, in the process, an untenable situation for many claimants whose needs are not met under a blanket set of conditions.
"This idea of a one-size-fits-all benefits scheme is a chimera," he insisted. "Everybody is different and that's the whole point of benefits. A good benefits system recognizes that everyone is different and has unique needs, and is damaged and has its credibility reduced by any failure to recognize that. What happens with something like Universal Credit, which has been sold on this aspiration to make things simpler, is that because we're also concerned with economy and cost-effectiveness, it can penalize so many people."
In agreement was Dan Finn, Emeritus Professor of Social Inclusion at Portsmouth University, who said Universal Credit amounts to a gross oversimplification of the benefits system. "It's the kind of thing where people rhetorically think it's a good idea, saying 'Yes, we should make the benefits system as simple as possible, why don't we have one single benefit?' The problem is that benefits systems are far more complicated than that," he told Occupy.com. "If you're trying to organize income transfers and income support for the best part of 7 million households, in very different circumstances and with very different needs, then you inevitably end up with a complex system."
Finn said that, ultimately, Universal Credit has created more complications, not fewer. "What Universal Credit has done is simplify some bits of the system," he explained, "but it also introduced new types of complexities into the system, as well as shifting a lot of money around so that a few people are going to be better off than under the previous system, but large numbers are going to be worse off."