Homelessness and Hate Crimes Set to Rise in Post-Brexit Britain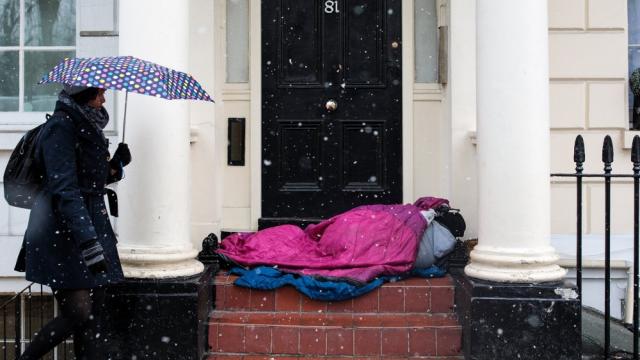 As Brexit bedlam intensifies and Britain edges closer to its agonizing E.U. departure date of March 29, grim reports are surfacing about the real impacts the decision to leave will have on U.K. society – specifically in the rise of homelessness and hate crimes.
Growing levels of homelessness are expected to worsen across across the country, particularly if the country leaves the E.U. without managing to secure a deal on Brexit.
 
A crisis in homes and jobs
Specifically in the city of Bristol – where homelessness has reached a crisis point following the temporary closure of two emergency support centers – a Brexit impact assessment recently presented to a councillor meeting highlighted the slowdown in the housing sector that is likely to result from the U.K.'s departure.
With developers and investors being deterred from the U.K. property market, the number of new homes built is expected to drop sharply – in particular the number of affordable homes, even as Britain's housing prices continue to spiral out of control.
A lack of affordable and accessible homes is considered the primary reason an estimated 26,000 people are homeless on any given night in England. Loss of jobs is another key factor leading to the rise in homelessness.
In U.K. cities with high levels of unemployment, like Liverpool in the North West, rough sleeping has long been a growing problem. Now, with nearly one in three businesses in Britain planning to relocate their operations abroad – or having already moved as a precaution to the damages inflicted by Brexit – it's no secret that more jobs are in jeopardy.
With manufacturers losing contracts due to Britain's E.U. referendum result, firms are admitting they may have to lay off employees in the wake of Brexit. Research shows as many as one in five manufacturing firms are expected to have to dismiss workers because of Brexit.
Speaking at the meeting in Bristol on the Brexit impact assessment report, Councillor Stephen Clarke said that as people lose their jobs, their homes are at risk, creating a huge problem. "It's not difficult to predict the impact of Brexit on homelessness. It will mean a huge increase in homelessness," said Clarke. "I can see some mini refugee camps appearing in Bristol."
Such concerns are echoed in a WPI Economics report, entitled "Homelessness and the impact of Brexit," which highlights the myriad of risks Brexit poses to Britain's homelessness crisis. One of the leading risks fall on E.U. nationals who are currently in Britain experiencing homelessness and may be unable to gain a new immigration status in post-Brexit Britain.
"The risk of some E.U. nationals failing to secure new immigration statuses, and so falling into or remaining stuck in homelessness is clear, whereas the potential for a post-Brexit Britain to increase housing access and affordability, is far less certain," states the report.
The report also warns that workplace protections currently protected by E.U. law could be weakened or removed by Brexit, thus threatening people's job security further. Under Prime Minister Theresa May's divisive and controversial "hostile environment" policies, E.U. nationals living in Britain legally may face difficulties accessing employment and privately rented accommodation, potentially leading to a further rise in homelessness.
 
Xenophobia and hate crimes previewed to jump
As the report's authors acknowledge, however, the risks Brexit poses are not confined to E.U. nationals but "relate to the experience of British, E.U., and other foreign nationals living in the country." Concurrent with the fears of Brexit leading to a rise in homelessness is a growing concern that the country's departure from the E.U. will spur a new wave of hate crimes.
Even before the E.U. referendum took place in June 2016, atrocious hate crimes taking place on Britain's streets were linked to the Leave campaign – the most heinous and prolific of which was the murder of Jo Cox, a Labour MP in West Yorkshire, who was shot and stabbed to death by a right-wing extremist during the final week of the referendum campaign.
While most of the nation reeled in shock from the murder, a fraction of extremists celebrated the MP's death, taking to Twitter to refer to her killer as a "hero" and "patriot," and labelling Jo Cox a "traitor" to Britain.
An analysis of the tweets formed the basis of a report that linked hate speech and hate crime, both online and in person, to "trigger" events such as the nation's vote to leave the European Union. In the months after the referendum, Britain witnessed a surge in racial and religious hate crimes; in July 2017, a year after the Leave vote, race and faith attacks reported across the country reached the highest rate on record.
This prompted calls for government to urgently review its response to the rise in such crimes. But in the 12 months leaving up to March 2018, the U.K. still saw a 17% increase in hate crimes recorded by police in England and Wales.
Now, as the UK edges toward its official E.U. departure date, police are predicting a further rise in hate crime. As Superintendent Waheed Khan, Scotland Yard's deputy head of hate crime, told the Guardian: "If we look at what happened in the Brexit referendum then come March, we would expect some kind of response at that time in the attacks that take place. We will do what we can to prevent an upturn."
But with a no-deal Brexit looking increasingly likely, the risk of civil unrest alongside a rise in homelessness and hate crimes could present even direr results than authorities are prepared for.